Integrated Coal Gasification Combined Cycle (IGCC)
Integrated coal gasification combined cycle(IGCC)
Clean Coal Power R&D Co., Ltd. conducted IGCC demonstration test from 2007 to the end of fiscal 2012.Joban Joint Power Co., Ltd.. took over the demonstration plant as Nakoso power station unit No. 10 for commercial operation from fiscal 2013.
Air blown type IGCC system is adopted for unit No. 10.
In 2013, commercial operation of unit No.10 had started from June 28th and it stopped December 8th.
The operation time was 3,917 hours. It broke the world record for continuous operation time(3,287 hours) of IGCC which was set by Bugghenum power station in Netherland.
Schematic of IGCC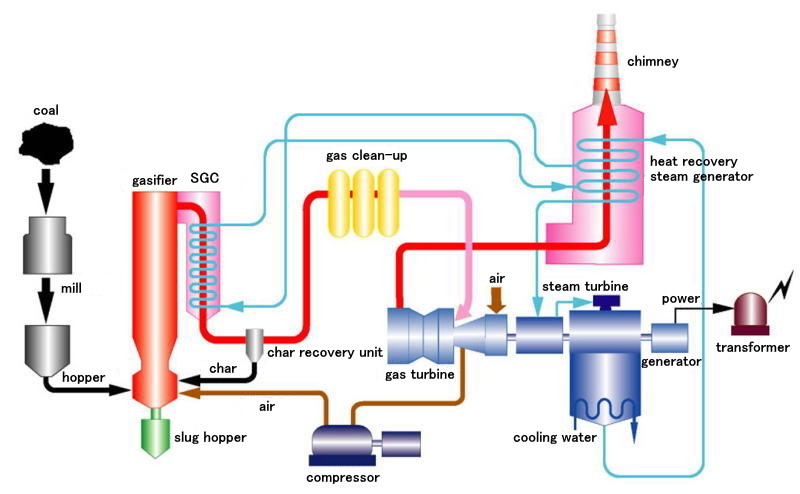 An IGCC system is designed to achieve higher efficiency than conventional coal-fired power generation systems through the gasification of coal coupled with a combined cycle (CC) process.
Specifications of No.10 unit
Capacity
250 MW gross
Coal Consumption
approx. 1,700 metric t/day
System
Gasifier
Air-blown & Dry Feed
Gas Treatment
Wet (MDEA) + Gypsum Recovery
Gas Turbine
1200 deg C-class (50Hz)
Efficiency
(Target Values)
Gross
48% (LHV) 46% (HHV)
Net
42% (LHV) 40.5% (HHV)